Right now I am consumed with motherhood. I have been a mother for almost eighteen years now. I am tired and eager to see my children become young adults and go out into the world but my job is not done. These years have been and will continue to be some of the most intense parenting of all. How could this not show up front and center in my current work? I stress current as I anticipate a time when my subject will change to reflect changes in my life. But for now, I am driven to paint my family. I have come to realize that in the past couple years I tended to prevaricate on my chosen subject but that needs to fall away. I am no longer the least bit apologetic. In my experience, artists are not to mention even being mothers much less make art about it. Work about children is often seen as sentimental and/or trite. To me, that's absurd because I cannot think of any stronger, deeper, fundamental, spiritual, powerful, wonderful, fearful, terrible experience than motherhood.
My teens live with and reflect strong emotion, good and bad, with undercurrents of constant change and fear of the unknown. Most times I am only a voyeur offering support and at best helpful but often helpless. When I paint them- this is what I am showing you. I am so taken with the intensity of the teenage years and with that comes the need to explore and portray my experience of being woman/wife/mother. My roles are ever changing and I use self-portraiture to reflect that. My newest work is a theme I have painted before. Simply, it is escape. It is refuge. It is respite. These self-portraits are me but yet not me. They transport me to a happy, calm, sunny place. I need that touchstone to return to. Mothering is very tough work and we all need coping mechanisms- this is mine. Not vanity but my selfie escape hatch.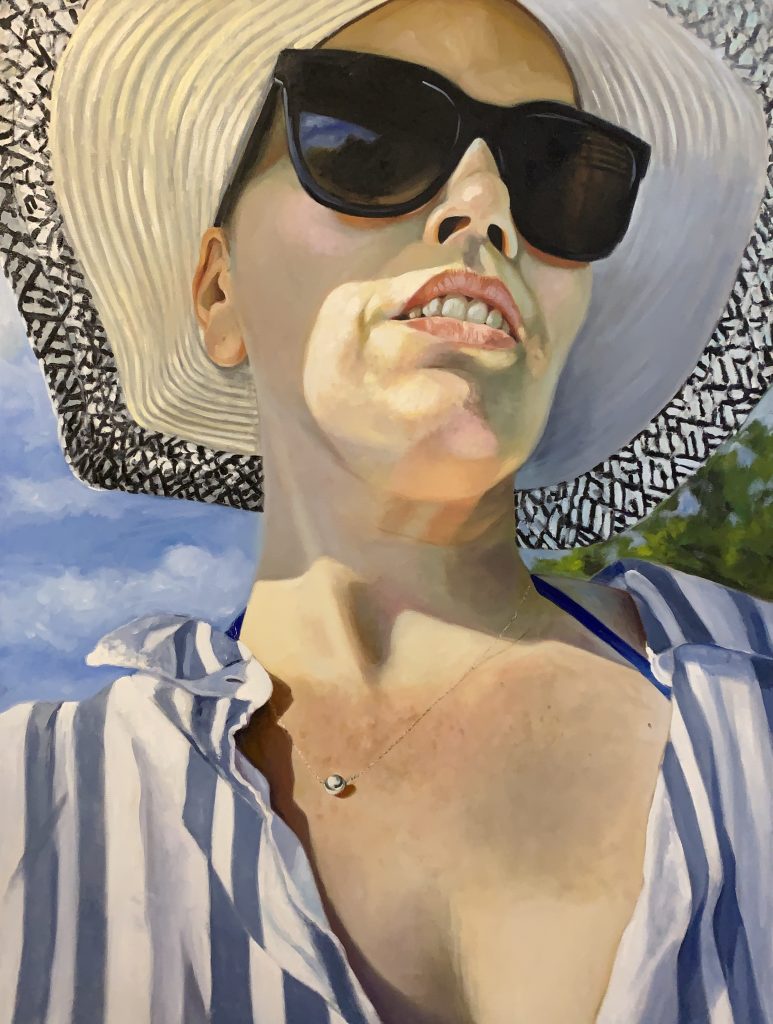 Ellen Starr Lyon, b. 1974 in Columbus, Indiana. Ellen is a figurative painter showing throughout the United States with a focus on the Midwest. She is a current member of PoetsArtists, Hoosier Salon, Indiana Artists (IN/A) and Juniper Gallery. Ms. Lyon has shown at Abend Gallery in Denver, CO, WMOCA in Wausau, WI, Woman Made Gallery in Chicago, IL and several online exclusives on Artsy through the Zhou B Art Center and 33 Contemporary. She has been published in Fine Art Connoisseur Magazine highlighting artist self-portraits. Her paintings have been featured online on sites such as Bored Panda and Buzzfeed. Ellen has a BFA in Painting and BA in Art History from Indiana University. IU has acquired several of her paintings.
To inquire about purchasing any of these works, please contact Ellen at ellenstarrlyon@gmail.com. If interested in any of the works represented by galleries you may also visit their websites. For Juniper Gallery https://juniperartgallery.com/collections/Ellen-Starr-Lyon/%20  and for items sold through 33 Contemporary https://www.artsy.net/artist/ellen-starr-lyon/works-for-sale. My website is https://www.ellenstarrlyon.com/  and my Instagram account is https://www.instagram.com/ellenstarrlyon/.